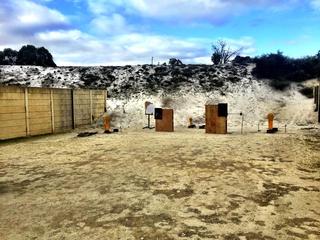 PVPC is always encouraging new and potential members to come down to the club, chat to the friendly members, and find out what this amazing sport is all about. It is recommended that you do come down for a few hours on a Saturday afternoon to watch the weekly competitions and get an idea about the sport. It's also recommended that you view the IPSC Videos on our page to get a first-person view of what happens when you're shooting a course of fire.
If you'd made up your mind that IPSC is for you, then the next step is to let us know, so we can put you through one of our training courses which run throughout the year.
---
The training course runs for 12-14 weeks (mostly on Saturday mornings) and will bring you from never having touched a pistol before, to passing your holster proficiency test and allowing you to compete with all the other members in the weekly competitions. Each training group allows ~15 places, so make sure you get in quick to secure a place.
Entrance into the training courses is highly competitive due to the low numbers of spots available. If you're interested, make sure you contact us as soon as possible and pay your deposit to secure your spot in the next course. Currently, there are two training courses per calendar year.
Online Training Registration
If you are interested in signing up to Pine Valley Pistol Club, you will need to fill out the New Membership enquiry. This will put you in touch with our primary trainer, who will provide you will all the relevant information you need for signing up.
If you like what you see, you will initially receive an invoice for $200, which is your deposit to secure your spot in the next training course.